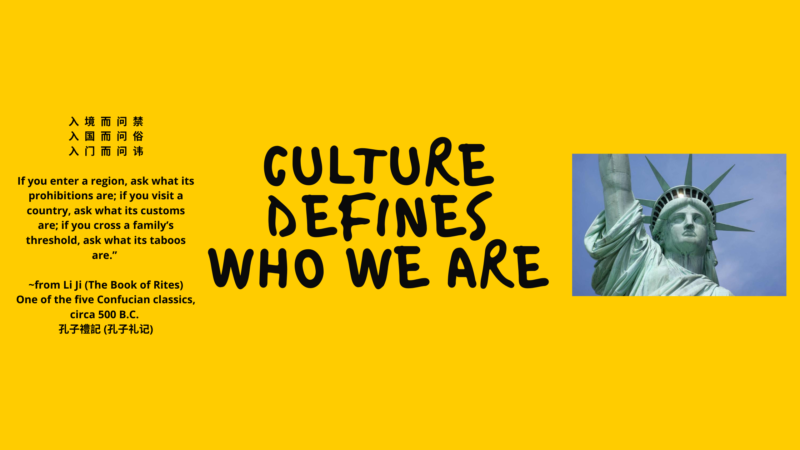 Culture defines who we are, whether it's national, regional, or familial. We are our culture.
The Cultural Society is aware of its importance. This initiative, Culture & Heritage, addresses culture interpersonally, nationally, and internationally. Since many of our key members are Chinese-Americans, we can provide unique approaches and expertise in the area of culture with our first-hand experience from our background. Here, we embrace our unique identity and are willing to share our experience as we learn more about our culture with you!
Please browse through the courses we offer. If you need more information about any of the courses, please feel free to contact us at info@csebri.org
Update: As of September 2021, we will resume our in-person classes along with virtual classes as you choose.  We will use a hybrid learning model according to your preferences. 
If you are interested in exploring Chinese culture, taking a beginner's Chinese calligraphy class may be a a great introduction to the beauty of Chinese characters.
Currently, we offer Chinese cooking and calligraphy classes for teens and adults. We are always open to expanding our courses, so if you want to take a course about a topic we don't offer yet, feel free to contact us and tell us about your ideas!
Mandarin Courses for Children/Students
These courses are for children and students who want to learn how to speak, read, and write in Chinese. Mandarin Chinese is the second most spoken language in the world, and becoming fluent in it is a lifelong skill.
We offer a wide range of classes for different skill levels, ranging form beginner classes for elementary students to an AP level course for high-school students.
Asian American Connection Initiative
The AACI has several goals and activities including (but not limited to) a mentoring program, English conversation class, job training & search, and placement assistance as well as a health & wellness program and cultural exchange workshops for all who are interested to join us. 
The Asian American Connection is a new initiative which arose from the result of the pandemic.  Please read about its origin and the  services offered by clicking on the above button. Please let us know how you want to get involved. We look forward to hearing from you!

Contact us for a free consultation and see which courses are right for you!