Jeannnie's Memoir is finally Published and Available
The memoirs of AAPI individuals have been few in the United States.  It may have to do with the teaching and culture of most Asian families and upbringings – to be coy, keep your head down and work hard, and don't bring attention to yourself…etc.  It is not easy to defile the culture we come from and be our own individual. It is doubly challenging if you live in the backdrop of another culture overshadowing you and marginalizing you and prejudging you because of the way you look, the shape of your eyes, and the color of your skin. Even though you like the way you look, feel good about yourself, and are confident in what you can do but this culture just underestimates you and keeps telling you otherwise.  Jeannie shares vulnerably about the life she has had from her birthplace, Hong Kong, to immigrating to the United States as a 1.5 generation in the '70s.  She has to bury some of her dreams in order to fit in.  Hear her story of founding and managing a nonprofit organization after becoming a mother, even though she's had founded a number of nonprofit organizations and had been on the founding boards before. She serendipitously landed a teaching career when she least expected it and the challenges she faced as she walked into the college classroom for the first time.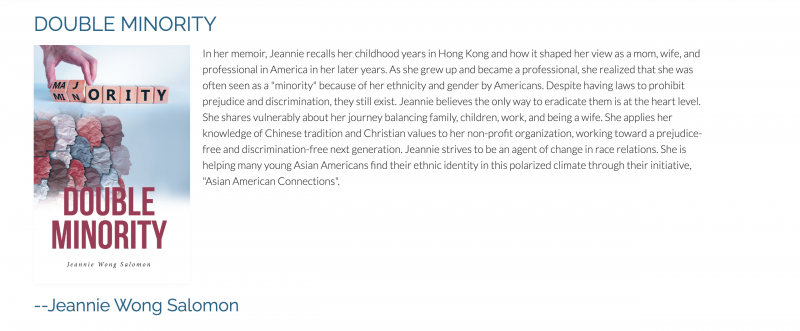 The profits of this book will be donated to the Cultural Society.  Thank you for your patronage in advance.