Second Saturday - 5/13/23
The celebration takes place on the outside patio of Washington Park Library at 1316 Broad Street, Providence, RI.  There will be tents if it rains or the celebration will move to the inside of the library. 
On this second Saturday of the AAPI Heritage Month celebration, we will feature multiple dances from Southeast and South Asia.
These dances tie us back to the homeland of the Cambodian Americans, whom we often call Southeast Asians. Southeast Asia includes eleven countries of its diverse cultures, according to Northern Illinois University, Center for Southeast Asian Studies.
Brunei
Burma (Myanmar)
Cambodia
Timor-Leste
Indonesia
Malaysia
Phillipines
Singapore
Thailand
Vietnam
We will focus on and learn about the Southeast and South Asian cultures: the Cambodian and the Indian cultures through their dances.
The times of the performances are from 1:00 pm to 5:00 pm. Each performance's duration is not exact; please stay for the whole afternoon if you don't want to miss any of the dances and programming.
1:00 – 1:30 p.m. — Opening of another weekend celebration. Announcement and passing of lunches and drinks out to everyone in the audience. [Please register on our website so we know how much food and drinks to prepare.] 
1:30 – 2:30 p.m. 
Mass Apsara Troupe of Cambodian Community of Fall River: 

Peacock Dance
Butterfly Dance
Coconut Dance
Chayam Music
2:30- 3:00 p.m. – Recording of two person reader's theatre performance of Maia Mongado's articles in AAC Journal, in Issue 5 and Issue 2, in collaboration with  Living Literature,MA
3:00 – 4:00 p.m. —
Kuchipudi Dance, (Classical Indian Dance) by performing PADAM students, of Cranston, RI
4:00 – 5:00 p.m. – Passing out of FREE books,  The Asian American ABCs for pre-registered patrons.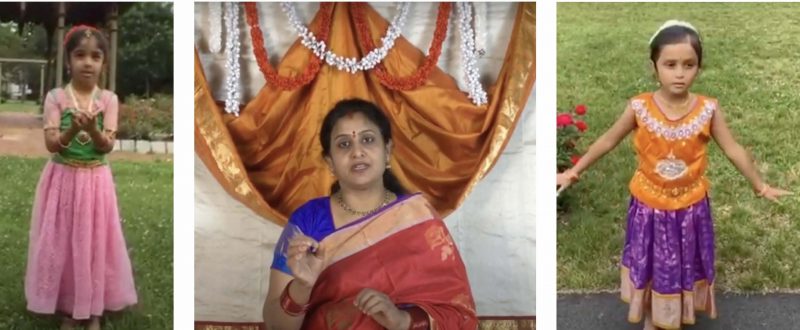 Kuchipudi dance is a type of Indian classical dance. Come to watch the unique dance as well as to try a few moves yourself.
Please scan the QR code below or use this link to REGISTER for the AAPI Heritage Month celebration and get a FREE book, ABCs of Asian American History at the event. 
Please scan the QR code below to GIVE FEEDBACK on the event!
Please click on the button above to see the next weekend's celebration and programming.  And click on the button below to go back to see the first weekend's (5/6/23) celebration.